Supporting communities around the world is part of who we are at Dr. Martens.
In 2020, we launched the Dr. Martens Foundation, which is our vehicle for charitable giving, fundraising and volunteering. We pledge to increase the amount we donate to charities and volunteer our time. Together, we empower each other to do more and support the causes we feel most passionately about.
The Dr. Martens Foundation
The Dr. Martens Foundation* stands for doing more. We put our best foot forward and lead the way for what is fair. We support causes which empower rebellious self-expression and drive forward positive change. Donations for the Foundation are currently raised by our people and the business.
The Dr. Martens Foundation supports our regional charity partners through funding and volunteering. We aim to:
Empower rebellious self-expression and support creators by fuelling their rebellious spirit and giving consumers access to music, art or culture projects.
Drive positive change and support projects which drive change for the better.
Support sub-cultures and help projects that support young people to overcome barriers.
2020 global highlights
Since launch, the Dr. Martens Foundation has donated over £120,000 to causes nominated by our people.
In response to the coronavirus crisis, we launched the internal "Give Something Back" campaign. Employees were given the opportunity to nominate their local causes to receive a donation during these challenging times. Around £20,000 was donated to causes around the world.
Our Charity Partners
We value diversity and authenticity, so we support an array of local causes across Europe, the Americas and Asia Pacific. We will also be selecting primary charity partners in these regions.
In 2020, we partnered with Campaign Against Living Miserably (CALM), which is leading a movement against suicide. CALM was selected following an employee survey where our people selected mental health as the most important topic to them.
We also support our employees to step up and show up for charities of their choice too. We encourage our people to use their annual volunteering allowance to support their local community and the causes they feel most passionately about.
For example, in Asia Pacific, we volunteered for the food assistance programmes Food Angel and ImpactHK. In the US we donated 960 meals to those in need, supplied over 200lbs of clothing to Portland Rescue Mission and donated nearly 200 backpacks of school supplies to the Children's Cancer Association.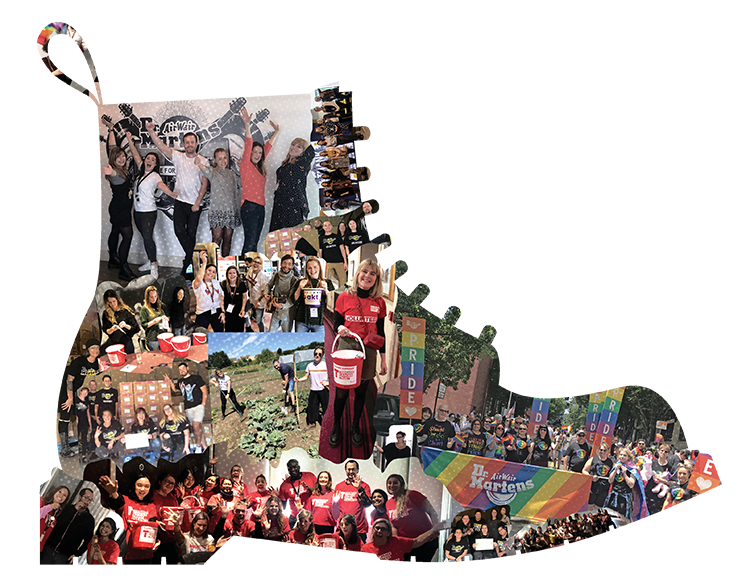 * The Dr. Martens Foundation is established under the Charities Aid Foundation, which is a registered charity, no. 268369.