We're adopting more sustainable and traceable materials without compromising on quality, as we move towards our product lifecycle being regenerative and circular.
Materials
The 1460 boot features iconic and instantly recognisable design characteristics – the yellow welt stitch, grooved sole and black and yellow heel loop – which still provide the foundation for all other product expressions. Fast-forward to today – we're identifying opportunities to put sustainability at the heart of our design. Not only are we increasing the use of sustainable materials in our products, but we are also focused on ensuring our products stand the test of time and their quality is not compromised.
We're investing in the development of more sustainable materials, such as bio-based alternatives, which will support our Commitment for all our footwear to be made from sustainable materials by 2040. For example, our 50/50 Recycled Poly Tract collection includes 50% post-consumer recycled polyester in the uppers, an alternative to standard virgin polyester. As of 2021, our standard Airwair heel loops also include 50% post-consumer recycled polyester. We are also incorporating high-performance recycled material into our laces and linings of relevant footwear.
We're also committed to ensuring all relevant teams have annual training on sustainable design thinking and principles by 2022. We are currently developing a "Design Handbook" to ensure our unique sustainability attributes, such as our durability and timeless design, are understood and applied by all generations of the product creation team. By 2028, all products will align to our defined sustainable design criteria.
At DM's we have a long tradition of making leather shoes. Leather displays a unique range of physical properties and to this day, it remains our most used animal derived material. The raw material used to make the leather we use originates as a by-product of the food industry. We specify all the leathers used in our products from selected tanneries. The tanneries that we work with are all assessed for a number of factors, including their environmental and social responsibility credentials to ensure they meet our high standards.
We are a member of the Leather Working Group (LWG)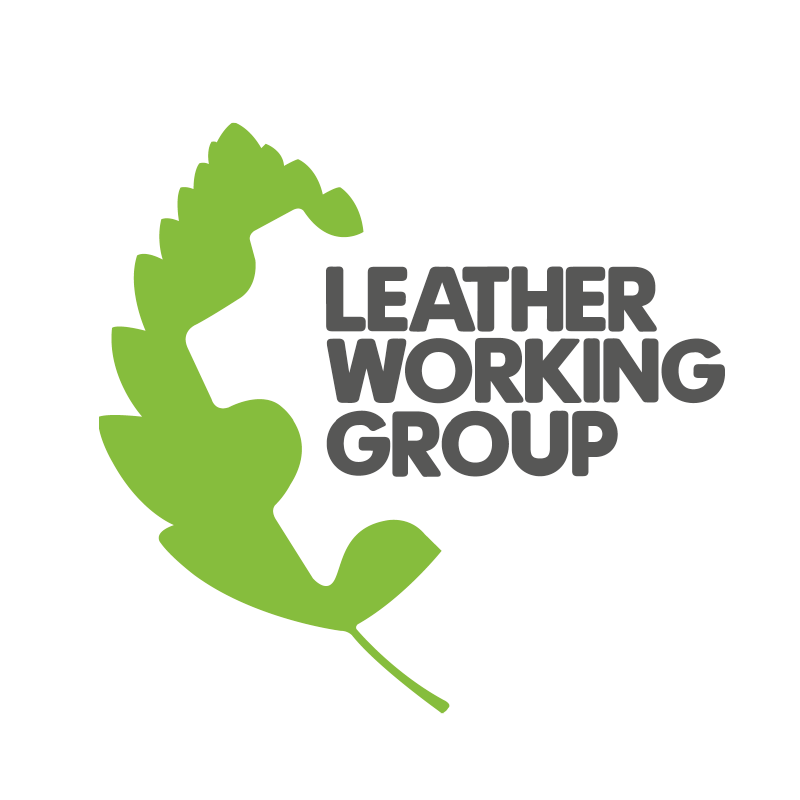 The LWG is a collective of tanneries, brands, suppliers, technical experts and NGOs, whose aim is to raise environmental standards throughout the leather industry. LWG tanneries are audited on their environmental performance and are certified as Gold, Silver, Bronze or Audited, depending on their performance. From AW21 production onwards, 100% of our upper leather came from LWG certified tanneries, with 98% from Gold and Silver medal rated facilities
The LWG audit protocol assesses tanneries across key areas including energy consumption, water usage, air and noise emissions, waste management, health and safety, chemicals management, effluent treatment (which is aligned to the ZDHC wastewater requirements) and the traceability of material through the leather supply chain. Tanneries are now also required to have a recognised social audit. More information about the LWG audit protocol can be found on the LWG website.
The LWG has contributed to greater efficiency across the global leather supply chain, resulting in better environmental performance across the whole industry. This is why we are proud to work with tanneries committed to improving their processes and minimising their impacts.
We are also a member of the Animal Welfare Group, a sub-group of the LWG
By working together with other brands, suppliers and NGOs, we are supporting the collation of information on animal welfare best practices in the leather supply chain to improve conditions throughout the industry.
Leather traceability
We have set ourselves the target to achieve 100% leather traceability by 2024. Check out the leather section of our Sustainability Report here for the latest update on our progress.
Achieving this is only the first step in the journey, which will enable us to safeguard our leather supply chain from the risk of deforestation and other negative environmental impacts.
Traceability is a key enabler for some of our targets and will allow us to safeguard our leather supply chain from the risks of deforestation, as well as other negative environmental, social and animal welfare impacts.
The LWG audit currently scores tanneries on how much of the leather is traceable through their supply chain. We take this score into account as we develop the traceability within our leather supply chain against our 2024 target.
We are also members of the LWG Traceability Working Group, currently holding the position of Co-Chair. Through this group, the LWG and its community are working with NGOs and other organisations, including WWF and NWF, to further enhance the LWG Audit Protocol in terms of traceability. The group is also inputting into further work to enable greater transparency throughout the leather supply chain to progress against areas of particular importance or concern, such as deforestation.
Animal Derived Materials Policy
We have an Animal Derived Materials Policy which sets out our full standards regarding animal derived materials. This includes the materials we do not use, like fur, and recognises the five freedoms as a guiding standard for animal welfare. It also specifies that our shoe care products must not be tested on animals.
Today, the majority of our outsoles are made from an alloy of PVC, a durable and commonly used plastic. Granules are melted and moulded into shape to create our famous Dr. Martens air-cushioned sole and the pre-consumer waste material can be recycled back into the moulding process.
The soles of all our Original and industrial products are oil and fat resistant. All our soles offer good abrasion and slip resistance, while the air pockets provide comfort and shock absorption.
To attach the sole, a PVC welt is first stitched to the upper of the boot. The welt and sole are welded together at a temperature in excess of 650°C using a hot blade and pressurised rollers that force the components together. Once cooled, the two components form one piece of PVC and the sole has been attached without the use of adhesives.
The use of PVC as one of our materials ensures our products will stand the test of time. As PVC is largely derived from fossil fuels, we are investing in research and development as we aim to achieve our target to remove fossil-based chemicals from our products by 2035, as well as our target for all our footwear to be made from sustainable materials by 2040.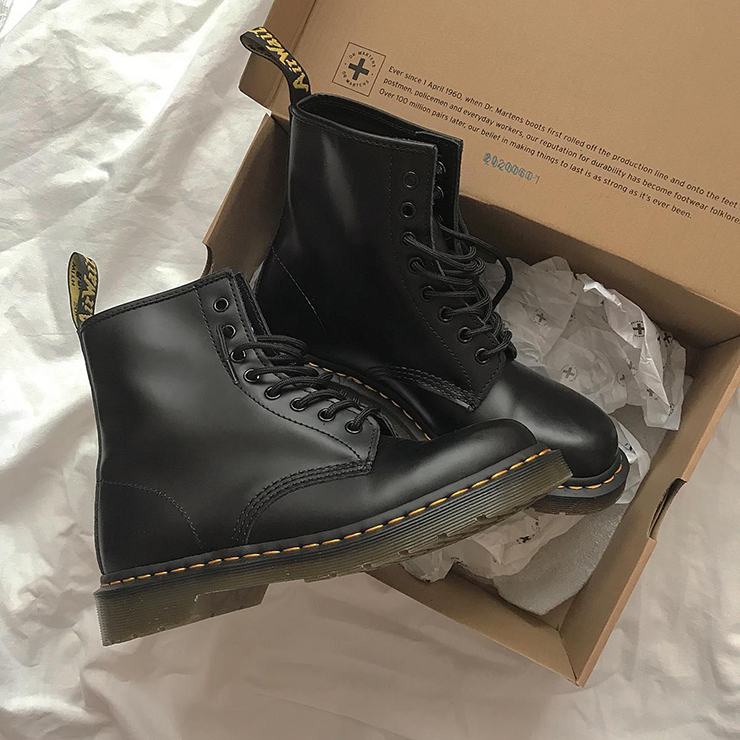 Our standard shoebox is fully recyclable, made from 95% recycled paper and printed with soy ink.
Packaging
By 2028 100% of our packaging will be made from recycled or other sustainably sourced materials.
Most of the packaging we use is to protect and transport our products in our supply chain. We reviewed our supply chain packaging which highlighted several improvements, such as sourcing more packaging with a sustainable certification (such as FSC), discontinuing non-recyclable items, and increasing the recycled content in our packaging.
This exercise also highlighted best practice in some regions, for example reusing boxes in Hong Kong and China, which could be implemented elsewhere in our supply chain. We also introduced a cardboard reuse initiative in our UK and US distribution centres, and we will continue to look for other reduction and reuse opportunities across our operations.
Lifecycle
Hang up your boots
Even the most loved boots will one day come to rest. We want to prevent this for as long as possible through care and repair. By 2040 all of our products will have a sustainable end-of-life option. We are also committed to offering options and guidance for our wearers to maximise useable life by 2025.
ReSouled is the next step forward on our journey to leave things better than we found them — to help our wearers make the most of each pair of DM's. ReSouled is a 'test and learn' trial in the UK which repairs worn or faulty Dr. Martens footwear which cannot be returned to sale due to their condition.
You can find out more on our ReSouled page or in our FY22 Sustainability Report.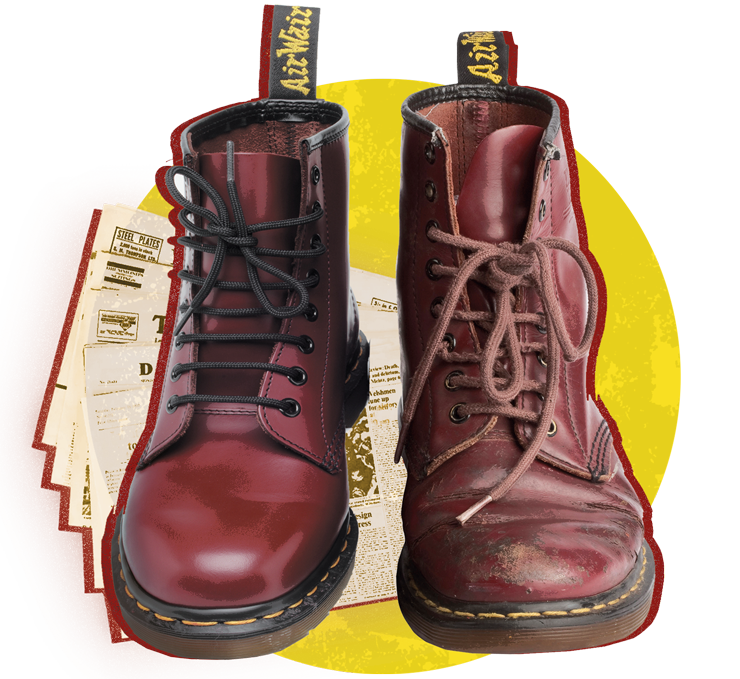 ---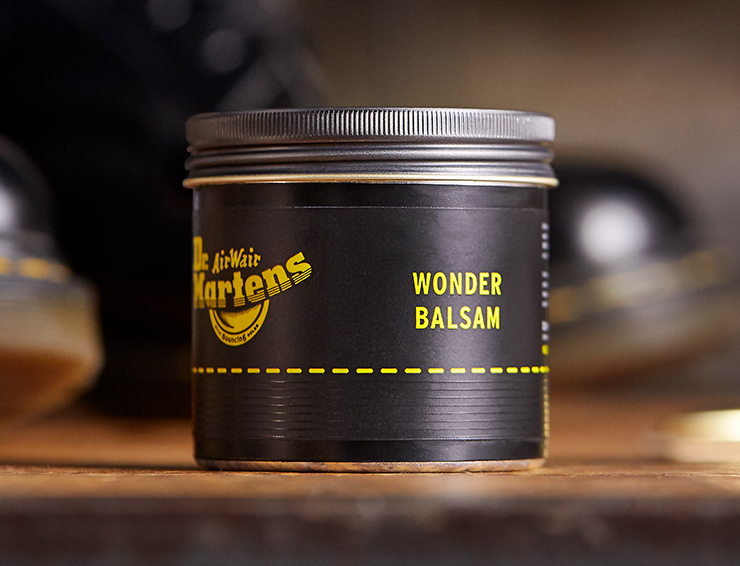 Durability and care
One of the most effective ways to reduce the environmental footprint of a product is to prolong its life. Research by WRAP has shown that increasing the lifespan of clothing by only nine months could reduce its annual carbon, water and waste footprint by 20–30%.
The timeless design and durable construction of our products mean they stand the test of time when cared for properly - but even tough shoes need looking after.
Learn how to maximise their life and care for your Docs by following the links below: