We have set targets to reduce waste from our manufacturing processes and trace the key materials we use.
In our production processes, we have taken a number of steps to ensure we adopt responsible practices. We partnered with external experts to measure the impact of greenhouse gas emissions of our products on the environment. To do this, we carried out a Lifecycle Assessment of a 1460 boot. Through this assessment, we learned that approximately 70% of the greenhouse gas emissions from the lifecycle of a pair of 1460 boots comes from producing the materials, such as leather and packaging. Sourcing more sustainable materials is where we can have the biggest impact on reducing our products' environmental footprint.
What is a Lifecycle Assessment?
A Lifecycle Assessment (LCA) quantifies the environmental impact of a product, material or service, across its entire lifecycle.
Materials
We are working to achieve 100% leather traceability by 2024, reduce leather waste and eliminate leather landfill waste by more than 95% through recycling and repurposing. We are also committed to researching and developing more sustainable materials for the future, such as biosynthetic and biodegradable alternatives, without compromising on the durability of our products.
Dr. Martens has a long tradition of making leather shoes. To this day, leather remains our most commonly used animal derived material. The leather we use is a by-product of the food industry. We also nominate more than 95% of our tanneries, meaning we stipulate which tanneries our leather comes from to ensure they have the highest standards.
We are a member of the Leather Working Group (LWG)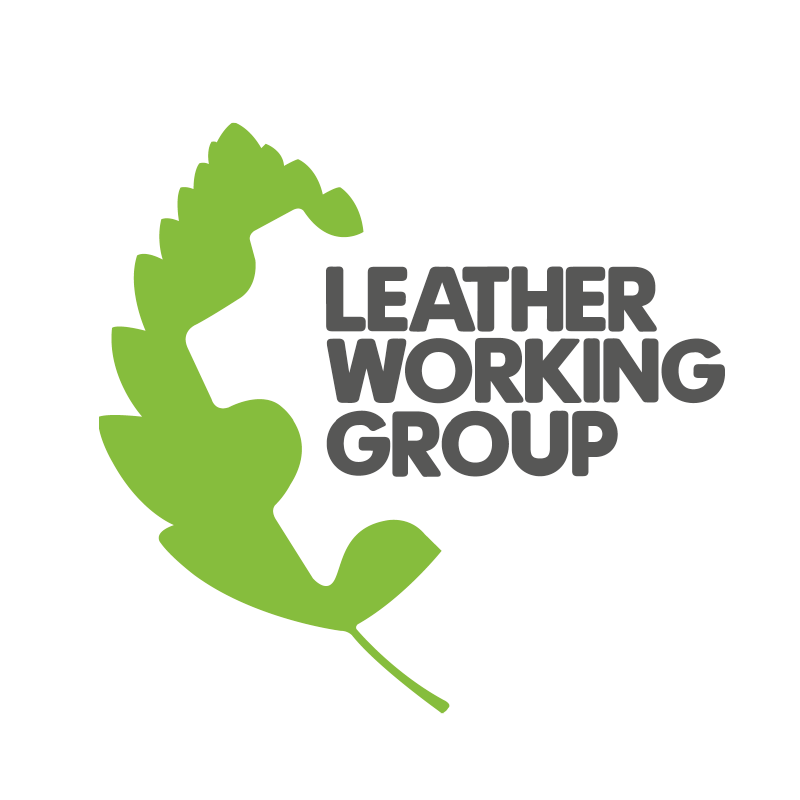 The LWG is a group of tanneries, brands, suppliers, technical experts and NGOs, whose aim is to raise environmental standards throughout the leather industry. LWG tanneries are assessed on their environmental performance and are certified as Gold, Silver, Bronze or Audited, depending on their performance. In 2019, more than 95% of our leather came from medal rated LWG certified tanneries.
The LWG has contributed to greater efficiency across hundreds of tanneries globally, resulting in better environmental performance across the whole industry. This is why we are proud to work with tanneries committed to improving their processes and minimising their impacts.
We are also a member of the Animal Welfare Group, a sub-group of the LWG
By working together with other brands, suppliers and NGOs, we are supporting the collation of information on animal welfare best practices in the leather supply chain to improve conditions throughout the industry.
Leather traceability
The LWG audit also scores tanneries on how much of the leather is traceable through the supply chain. Traceability is important because it promotes good animal welfare practices and addresses negative environmental impacts such as deforestation.
We have set ourselves the target to achieve 100% leather traceability by 2024.
Animal Derived Materials Policy
We have a policy which sets out our full standards regarding animal derived materials. Our suppliers and internal Design and Procurement teams must follow this policy. See our full Animal Derived Materials Policy for more information.
Today, the majority of our outsoles are made from an alloy of PVC, a durable and commonly used plastic. Granules are melted and moulded into shape to create our famous Dr. Martens air-cushioned sole and the pre-consumer waste material can be recycled back into the moulding process.
The soles of all our Original and industrial products are oil and fat resistant. All our soles offer good abrasion and slip resistance, while the air pockets provide comfort and shock absorption.
To attach the sole, a PVC welt is first stitched to the upper of the boot. The welt and sole are welded together at a temperature in excess of 650°C using a hot blade and pressurised rollers that force the components together. Once cooled, the two components form one piece of PVC and the sole has been attached without the use of adhesives.
The use of PVC as one of our materials ensures our products will stand the test of time.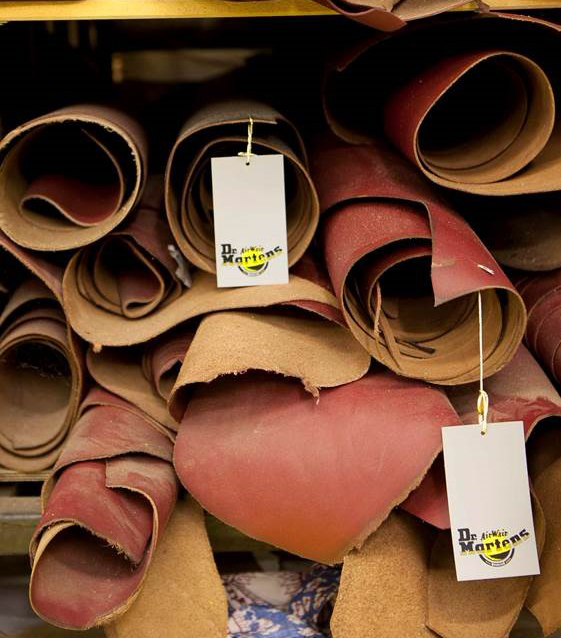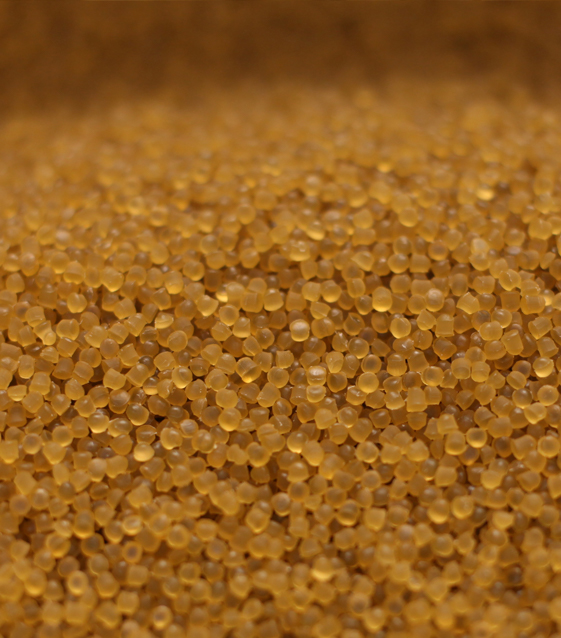 Since the start, innovation has been at the core of the Dr. Martens brand and continues to play its role in our products today. We will continue to research and develop more sustainable materials for the future, such as biosynthetic and biodegradable alternatives, while maintaining the DNA of the Dr. Martens brand.
Packaging
We are reducing and reusing packaging throughout our supply chain and incorporating more recycled and recyclable materials.
As part of our sustainability five-year goals we will reduce the amount of packaging we use and incorporate more sustainable materials into our packaging. We are proud that our standard shoebox is fully recyclable, made from 95% recycled paper and printed with soy ink. In our UK and US distribution centres we introduced a cardboard reuse initiative and we will continue to look for other reduction and reuse opportunities across our operations.
Global supply chain
Our global supply chain consists of manufacturing sites and distribution centres. As well as manufacturing our products in the UK, most of our footwear and accessories are produced in the factories of our trusted partners in eight countries across Europe and Asia.
We map and nominate our key material and component suppliers.
To learn more about our CSR programme in our supply chain, visit our Treat people responsibly page.
We will obtain the environmental best practice accreditation, ISO 14001, in our Made in England manufacturing facilities by the end of 2021.
Dr. Martens MIE factories are where our Made in England products are made. We are working towards the ISO 14001 accreditation to improve our operational environmental performance through more efficient use of resources and reduction of waste. We also want to lead by example for our supply chain partners. ISO 14001 is an internationally recognised standard for the implementation of environmental management systems.
We believe the places we work should be a reflection of our company values. Being a responsible brand starts with our owned and operated facilities and buildings. In addition to the MIE facilities:
More than 95% of our UK sites, including stores, are supplied by renewable energy – we continue to work towards achieving this in all our owned and operated sites.
All of our UK offices, MIE manufacturing facilities and UK distribution centre are zero waste to landfill. We are working to achieve this in our key footwear suppliers.
Our UK distribution centre was designed with sustainability in mind and achieved a BREEAM rating of Very Good. It has solar panels fitted and energy efficient air conditioning. It also has energy efficient lighting, as does our US distribution centre.
We require that any third-party logistics supplier agreements must include appropriate social and environmental standards.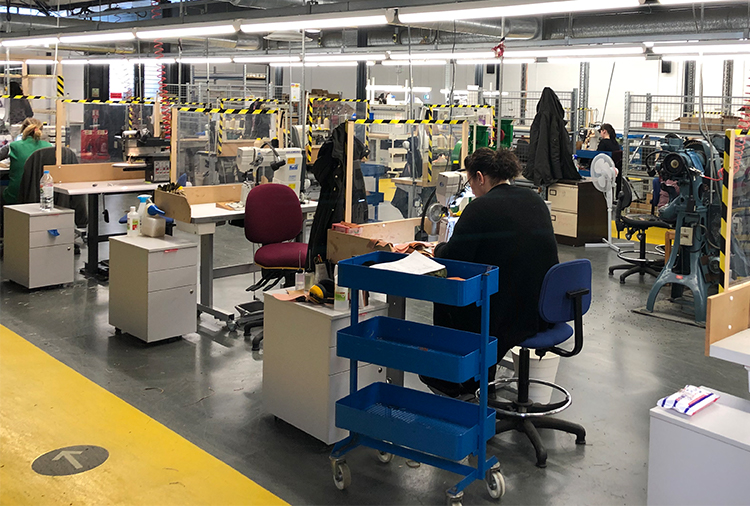 Supplier environmental standards
Our Environmental Standards set out our expectations for our suppliers' environmental management. We monitor our key suppliers against these standards and their environmental performance through our ongoing supplier monitoring programme. We also monitor our key suppliers' energy, water, waste and chemicals use on a quarterly basis.
Chemical management
Our Restricted Substances Policy is key to ensuring that our products comply with all relevant product safety legislation and requirements. Every new material and component type in our products goes through a rigorous testing programme to ensure it is compliant. Product compliance is monitored further from development to bulk production through ongoing testing.