We have set targets to reduce waste from our manufacturing processes and trace the key materials we use.
In our production processes, we have taken a number of steps to ensure we adopt responsible practices. We partnered with external experts to measure the impact of greenhouse gas emissions of our products on the environment. To do this, we carried out a Lifecycle Assessment of a 1460 boot. Through this assessment, we learned that approximately 70% of the greenhouse gas emissions from the lifecycle of a pair of 1460 boots comes from producing the materials, such as leather and packaging. Our top three most used materials are leather, PVC and polyester. Sourcing more sustainable materials is where we can have the biggest impact on reducing our products' environmental footprint.
What is a Lifecycle Assessment?
A Lifecycle Assessment (LCA) quantifies the environmental impact of a product, material or service, across its entire lifecycle.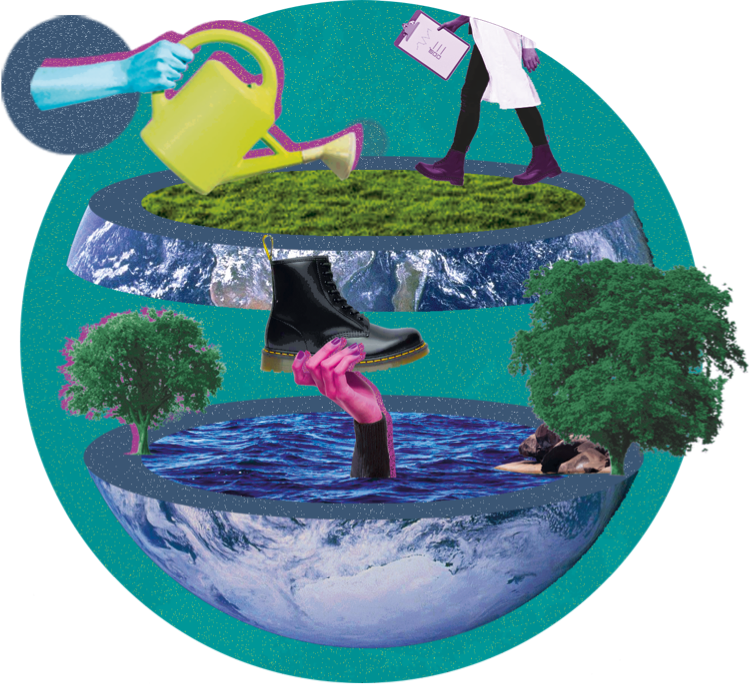 Materials
Within the Produce Responsibly pillar of our programme, we have set ourselves targets around materials and waste. We are working to achieve 100% leather traceability by 2024, reduce our waste and eliminate landfill waste across our value chain by 2028. We are also committed to researching and developing more sustainable materials for the future, such as biosynthetic and biodegradable alternatives, without compromising on the durability of our products. This will allow us to achieve our target for all our footwear to be made from sustainable materials by 2040.
Dr. Martens has a long tradition of making leather shoes. Leather displays a unique range of physical properties and to this day, it remains our most used animal derived material. The raw material used to make the leather we use originates as a by-product of the food industry. We specify all the leathers used in our footwear uppers and leather goods from nominated tanneries. The tanneries that we work with are all assessed for a number of factors, including their environmental and social responsibility credentials to ensure they meet our high standards. We are progressing further to specify all leathers that go into our products, including linings.
We are a member of the Leather Working Group (LWG)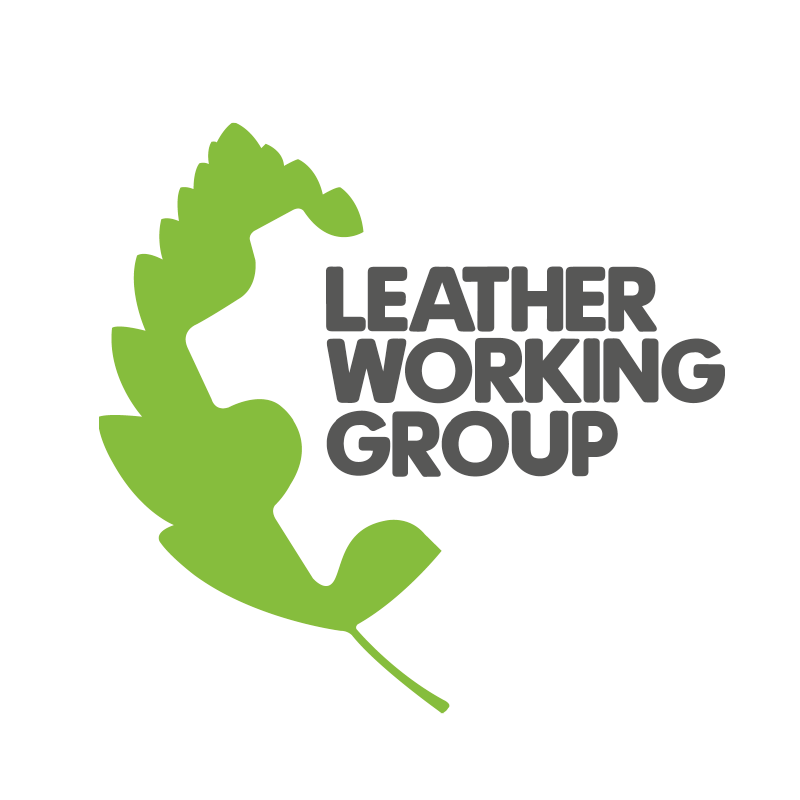 The LWG is a collective of tanneries, brands, suppliers, technical experts and NGOs, whose aim is to raise environmental standards throughout the leather industry. LWG tanneries are audited on their environmental performance and are certified as Gold, Silver, Bronze or Audited, depending on their performance. From AW21 production onwards, 100% of our upper leather came from LWG certified tanneries, with 98% from Gold and Silver medal rated facilities.
The LWG audit protocol assesses tanneries across key areas including but not limited to energy consumption, water usage, air and noise emissions, waste management, health and safety, chemicals management, effluent treatment (which is aligned to the ZDHC wastewater requirements) and the traceability of material through the leather supply chain. Tanneries are now also required to have a recognised social audit. More information about the LWG audit protocol can be found on the LWG website.
The LWG has contributed to greater efficiency across hundreds of tanneries globally, resulting in better environmental performance across the whole industry. This is why we are proud to work with tanneries committed to improving their processes and minimising their impacts.
We are also a member of the Animal Welfare Group, a sub-group of the LWG
By working together with other brands, suppliers and NGOs, we are supporting the collation of information on animal welfare best practices in the leather supply chain to improve conditions throughout the industry.
Leather traceability
We have set ourselves the target to achieve 100% leather traceability by 2024. Check out the leather section of our Sustainability Report here for the latest update on our progress.
Traceability is a key enabler for some of our targets and will allow us to safeguard our leather supply chain from the risks of deforestation, as well as other negative environmental, social and animal welfare impacts.
The LWG audit currently scores tanneries on how much of the leather is traceable through their supply chain. We take this score into account as we develop the traceability within our leather supply chain against our 2024 target.
We are also members of the LWG Traceability Working Group, currently holding the position of Co-Chair. Through this group, the LWG and its community are working with NGOs and other organisations, including WWF and NWF, to further enhance the LWG Audit Protocol in terms of traceability. The group is also inputting into further work to enable greater transparency throughout the leather supply chain to progress against areas of particular importance or concern, such as deforestation.
Animal Derived Materials Policy
We have an Animal Derived Materials Policy which sets out our full standards regarding animal derived materials. This includes the materials we do not use, like fur, and recognises the five freedoms as a guiding standard for animal welfare. It also specifies that our shoe care products must not be tested on animals.
Today, the majority of our outsoles are made from an alloy of PVC, a durable and commonly used plastic. Granules are melted and moulded into shape to create our famous Dr. Martens air-cushioned sole and the pre-consumer waste material can be recycled back into the moulding process.
The soles of all our Original and industrial products are oil and fat resistant. All our soles offer good abrasion and slip resistance, while the air pockets provide comfort and shock absorption.
To attach the sole, a PVC welt is first stitched to the upper of the boot. The welt and sole are welded together at a temperature in excess of 650°C using a hot blade and pressurised rollers that force the components together. Once cooled, the two components form one piece of PVC and the sole has been attached without the use of adhesives.
The use of PVC as one of our materials ensures our products will stand the test of time. As PVC is largely derived from fossil fuels, research and development will allow us to achieve our target to remove fossil-based chemicals by 2030, as well as our target for all our footwear to be made from sustainable materials by 2040.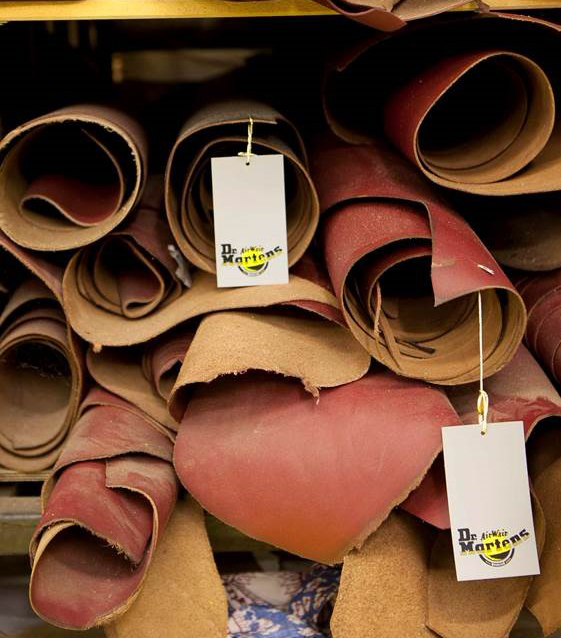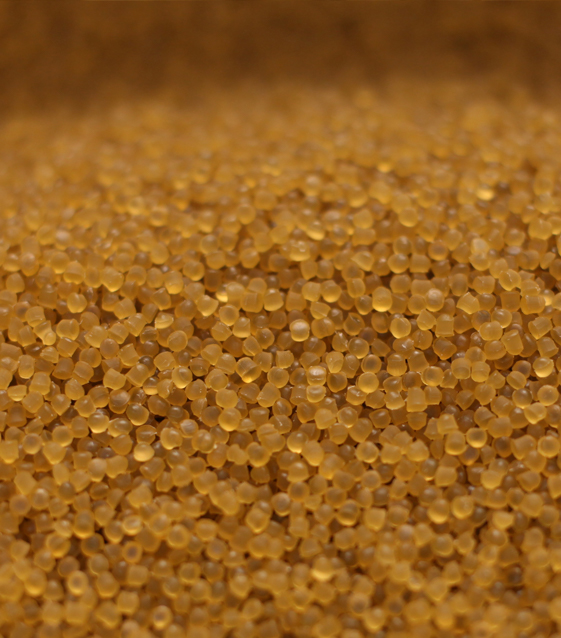 Since the start, innovation has been at the core of the Dr. Martens brand and continues to play its role in our products today. We will continue to research and develop more sustainable materials for the future, such as biosynthetic and biodegradable alternatives, while maintaining the DNA of the Dr. Martens brand.
Carbon and climate
Rapid action is needed to respond to the climate crisis. It is a global challenge that already affects us all, and will increasingly do so.
By 2025 we will source certified renewable energy across all our owned and operated facilities, and by 2030 we will be Net Zero. We have also committed to the Business Ambition for a 1.5-degree trajectory with the Science Based Targets initiative, as part of our Net Zero by 2030 goal.
We have control over our direct impacts and our proactive approach to the reduction of our carbon emissions has allowed us to take the first steps in our journey to become Net Zero. For example;
We have solar panels on our UK Distribution Centre.
100% of the electricity we procure for all our owned and operated sites in the UK comes from renewable sources - we continue to work towards achieving this across all our owned and operated sites globally.
We have started to increase the use of LED lighting in our stores and engaging our teams in using heating, ventilation and air conditioning (HVAC) systems effectively.
We have committed to sourcing certified renewable energy across all our owned and operated facilities by 2025 and being Net Zero by 2030.
We know we have a part to play that looks beyond our direct impact. As a footwear company, most of our climate impacts lie within our global supply chain. That's why in addition to our efforts to reduce our direct emissions, we will work with our suppliers to achieve our commitment of being Net Zero.
We have achieved some initial milestones towards managing our carbon footprint, however we still have a long way to go. This year we will measure our global carbon footprint, including Scope 1, 2 and 3 emissions, and start planning the emission reduction initiatives across our global operations.
Check out the Carbon section of our Sustainability Report for more information.
Packaging
By 2025, we will reduce and reuse packaging throughout our supply chain and by 2028 100% of our packaging will be made from recycled or other sustainably sourced materials.
Most of the packaging we use is to protect and transport our products in our supply chain. We reviewed our supply chain packaging which highlighted several improvements, such as sourcing more packaging with a sustainable certification (such as FSC), discontinuing non-recyclable items, and increasing the recycled content in our packaging. This exercise also highlighted best practice in some regions, for example reusing boxes in Hong Kong and China, which could be implemented elsewhere in our supply chain. We also introduced a cardboard reuse initiative in our UK and US distribution centres, and we will continue to look for other reduction and reuse opportunities across our operations.
Our standard shoebox is fully recyclable, made from 95% recycled paper and printed with soy ink.
Global supply chain
Our global supply chain consists of manufacturing sites and distribution centres. As well as manufacturing our products in the UK, most of our footwear and accessories are produced in the factories of our trusted partners in eight countries across Europe and Asia. We also map and nominate our key material and component suppliers.
This disclosure accounts for a significant proportion of our Tier 1 footwear suppliers and is reviewed and updated every six months.
To learn more about our CSR programme in our supply chain, read the CSR section in our annual report, or visit our Treat people responsibly page.
Dr. Martens Made in England (MIE) factories are where our Made in England products are made. In 2019, we set ourselves the goal to understand and improve our environmental impact at our MIE manufacturing sites.
This ambition led us to start our journey to implement an effective Environmental management system and to achieve ISO 14001 certification at our MIE manufacturing facilities. In April 2021 we achieved the ISO14001 certification. We want to lead by example by gaining accreditation at our own manufacturing facilities first, and then rollout environmental certification standards (ISO 14001 or equivalent) to all our Tier 1 suppliers by 2025.
ISO 14001 is the internationally recognised standard which enables organisations to monitor their environmental impacts in a systematic way and demonstrates a commitment to environmental protection above and beyond legal requirements.
We believe the places we work should be a reflection of our company values.
Being a responsible brand starts with our owned and operated facilities and buildings. In addition to the MIE facilities:
97% of our UK sites, including stores, are supplied by renewable energy – we continue to work towards achieving this in all our owned and operated sites.
All of our UK offices, MIE manufacturing facilities and UK distribution centre are zero waste to landfill. We are working to achieve this in our key footwear suppliers.
Our UK distribution centre was designed with sustainability in mind and achieved a BREEAM rating of Very Good. It has solar panels fitted and energy efficient air conditioning. It also has energy efficient lighting, as does our US distribution centre.
We require that any third-party logistics supplier agreements must include appropriate social and environmental standards.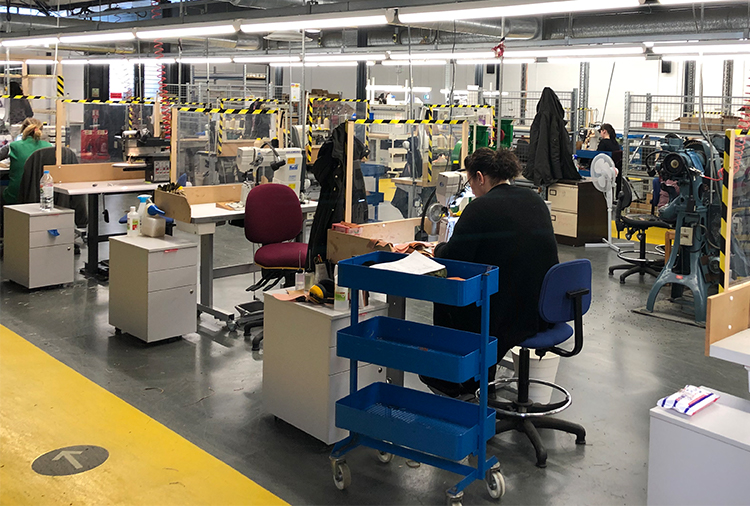 Supplier environmental standards
Our Environmental Standards set out our expectations for our suppliers' environmental management. We monitor our key suppliers against these standards and their environmental performance through our ongoing supplier monitoring programme. We also monitor our key suppliers' energy, water, waste and chemicals use on a quarterly basis.
RSL and Chemical management
Restricted substances are chemicals and substances which have been banned or restricted for various reasons such as health and safety and environmental concerns. The purpose of a restricted substances list (RSL) is to reduce the use of hazardous substances in the supply chain. Testing methods are used to verify if a chemical is present and if so, ensure it is below the restricted level.
Dr. Martens General Material Requirement Policy (GMRP) is part of Dr. Martens RSL programme and is key to ensuring that our products comply with all relevant product safety legislation and requirements. The GMRP is shared with and signed by our Tier 1 and key Tier 2 suppliers each year. It is reviewed and updated annually and is aligned with the legal testing requirements in all our operational regions (UK, EU, US, China, Japan and Korea) including REACH legislation and California Proposition 65, which is considered the most stringent chemicals legislation worldwide. We are committed to continuing to be compliant with the tightest chemical regulations identified worldwide through a best practice chemical management system.
We use third-party testing labs to test products against the highest applicable requirements for the markets they are sold into. All of the testing labs we work with are pre-approved by Dr. Martens so we only work with trusted testing partners. Every new material and component type in our products goes through a rigorous testing programme each season to ensure it is compliant. Random products are selected from the production line by Dr Martens Quality and Compliance team. As well as a comprehensive testing programme for our components and raw materials, we also carry out seasonal rip down (finished product) testing, where products are shredded and the individual components tested. If a product or material should fail a test for compliance reasons, an investigation is launched immediately to remediate the failure.